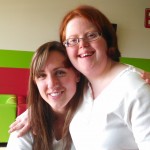 CA CORe is a new way to do advocacy in Washington County.
CA CORe is the name of our new program; Citizen Advocates Creating Opportunities for Relationships.
We are so excited to introduce you to our new CA CORe program for adults! This program is designed to give our adult communities both with, and without, developmental disabilities a chance to find common interests and get to know each other better. We will host both large and small events, while still hoping that one-on-one friendships will form out of the time spent together as a community. We are starting larger, and will be creating more small-group events as we discover what our participants' interests are. Our hope is that, with time, many connections will form between our adult community members with disabilities and our volunteers to create a web of support for those who may need it.
If you are interested in getting involved, we will have all our events posted to the Facebook page and tickets available for RSVP on the Eventbrite page for Citizen Advocates. Feel free to share and invite whomever you would like!
For our volunteers, our events will also be posted on The Volunteer Center website.