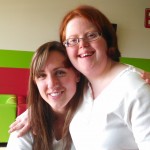 CA CORe is a new way to do advocacy in Washington County.
CA CORe is the name of our new program; Citizen Advocates Creating Opportunities for Relationships.
Citizen Advocates will continue to do the work of creating relationships between individuals with disabilities and those without, but instead of focusing on creating artificial one on one relationships, we will instead turn our focus to creating opportunities for natural friendships to grow through group activities.
We are excited about this change and hope you will be too.
     You will be hearing more about CA CORe in the very near future!